This page was last updated on 12/09/13
Please remember to submit an application to be considered. We will email you within 48 hours letting you know that your application has been received. If you don't get a notification, please contact us and we will send you an open application.
Once we have your application on file, if there is a dog on the web site that specifically interests you, let us know via email.
---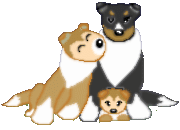 Hi my name is Skipper, I am a 6 yr old sable and white male. I am very quiet, I like to be petted and I am a weight watcher. I am awaiting my vet appt for neutering on December 9th. I am Ok with older kids and cats and other dogs.
---
This is a courtesy listing;If you are interested in Dusty please Click Here to send an email

Hi my name is Dusty, I am a 12 yrs old sheltie. My family is moving from Connecticut to Iowa and needs a foster home until I can move with them this summer. They are relocating due to work reasons and will be in an apartment that is not pet friendly initially. I am around 40 pounds and love to be around people. I am a great watchdog and love to have my belly rubbed. I am well housetrained but do not move very fast due to arthritis, but am a very faithful and loving boy. I eat twice a day 1 cup of grocery store bought food for mature dogs, but if you leave most food at my level unguarded I may nab it before you know it. I am good around other animals and kids.
Contact Sheltie Rescue
E-mail: nesr@charter.net - Hotline: (860) 546-6775