This page was last updated on 07/18/17
Please remember to submit an application to be considered. We will email you within 48 hours letting you know that your application has been received. If you don't get a notification, please contact us and we will send you an open application.
Once we have your application on file, if there is a dog on the web site that specifically interests you, let us know via email.
---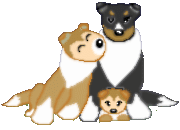 Seabreeze Shelties would like to thank New England Sheltie Rescue in rehoming Tootsie and Blossom in their new forever homes.

We have no dogs available right now. Please do submit an application. As new dogs become available we go through the applications on hand. If we find a match, that Family will be notified and given an opportunity to meet the dog before he/she is placed on the available page.
Contact Sheltie Rescue
E-mail: nesr@charter.net - Hotline: (860) 546-6775