This page was last updated on 07/27/14
Please remember to submit an application to be considered. We will email you within 48 hours letting you know that your application has been received. If you don't get a notification, please contact us and we will send you an open application.
Once we have your application on file, if there is a dog on the web site that specifically interests you, let us know via email.
---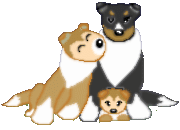 Jackson

Fenced in Yard Only

Hi my name is Jackson, I am a 5 yr old sable and white neutered male. I am looking for a new home with a fenced in yard, I have been trained to show off my tricks, and really love being with my people. I do have some "quirks" that need to be handled correctly in order for us to have a good family life. I do not like to have things taken away from me- therefore I only get my bones inside my crate. I also have problems with my people walking out the door- so I need to be put in my crate with a treat before you leave the house. I am fine with other Shelties and older kids ( visiting) But prefer to get all your attention. No young kids because they forget these are my toys and I don't want to share. ( They also pull hair- and that hurts!)

Note from foster mom _ Jackson has been a wonderful boy! As long as he knows your in charge, he is fine with having the freedom of the house. I Do put him away with a treat before I leave, and his crate is set up in my bedroom. He follows you everywhere, and that includes waiting for you outside the bathroom door. He is OK with my cats ( because they do not run) but will try to chase them, therefore I think he would do best in a home with no cats or a cat that doesn't care he is there. He gets too riled up with a lot of visitors, so I think a quieter home would best suit him. No city living for this guy!
Contact Sheltie Rescue
E-mail: nesr@charter.net - Hotline: (860) 546-6775