This page was last updated on 10/30/14
Please remember to submit an application to be considered. We will email you within 48 hours letting you know that your application has been received. If you don't get a notification, please contact us and we will send you an open application.
Once we have your application on file, if there is a dog on the web site that specifically interests you, let us know via email.
---
Callie

Adoption Pending

My Name is Callie. I am a small, blue Merle female sheltie. I am 8 years old. My foster mom says I am a sweet girl. I love to play and I love to eat. But I have to say, my foster mom is a member of the food police. She has me on a diet! Guess Maybe I might be a bit overweight. She says it's for my own good. Easy for her to say. I need a forever home that will love me forever. I love attention, and I love to hang out at my masters' or mistresses feet. If you are looking for someone to lavish love on, I will do the same for you.
---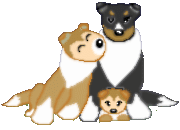 Buddy

Hi my name is Buddy, I am 12 1/2 yr young! My owner passed away and I am looking for someone to love me. I am a weight watcher, and because of my weight, I don't do stairs easily at all. So I am looking for a home that would require me to go up no more than 3 steps. I am a handsome sable and white boy. I am fine with cats and other Shelties. I would not want to live with small children as they move too fast and might trip over me. I am fine with cats and other Sheltie's. I can be possessive over my food bowl. So my foster mom feeds me in my crate.

Note from foster mom- Buddy is a sweet old guy, he is a little stubborn, and feels I live in his world. He LOVES to be outside and go for car rides. He puts his front feet in and turns around with a "hurry up and lift my rear end!" look. I dutifully lift his butt and he finds his place, and is happy to just watch out the window. He does have the typical old age fatty tumor on his side, but his vet checked it out and decided it was just a fatty deposit and it doesn't bother him. He is an "easy keeper". he just wants a soft place to lay down and snore!
Contact Sheltie Rescue
E-mail: nesr@charter.net - Hotline: (860) 546-6775