This page was last updated on 05/31/15
Please remember to submit an application to be considered. We will email you within 48 hours letting you know that your application has been received. If you don't get a notification, please contact us and we will send you an open application.
Once we have your application on file, if there is a dog on the web site that specifically interests you, let us know via email.
---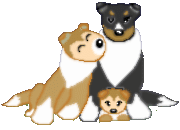 Miss Kitty & Teddy

Hi my name is Miss Kitty, my brother is Teddy. We are 11 yr old sweethearts. Our dad can no longer take care of us, but were loved and well cared for. Both of us are weight watchers… Sometimes dad forgot we ate, so we got fed again ( neither of us complained) . We are spayed/and neutered and all up to date on our shots, and on monthly heartworm. We are looking for a home where we can go together, because we have always been together! Because of age and weight- full flights of stairs might be hard for us- but we go up and down 6 stairs into my foster moms fenced in back yard with no problem at all. We are looking for a loving couple to give us a warm rug to lay on at night, and we enjoy being outside in the sunshine during the day. WE have always had a fenced in yard, so we are hoping our new home will have the same. We are fine with kitties, and other dogs. We have not been around small kids, so prefer not to live with them. We are both beautiful Sable and White. Is there someone who wants 2 great dogs to come make their lives full of love? If so- fill out an application, or if you already did- email Donna and let her know you want us!

---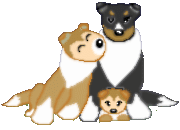 Rascal

Hi my name is Rascal, I am a small sable and white male, 6 yrs. old. I am looking for a new home because I became so attached to my last mommy, I didn't want anyone else around her ( including my daddy) One day the neighbor came into my driveway and was talking to mommy- so I ran out and bit his leg. I got in trouble for that and now need to find a new home. My foster mom has had no problems with me. She thinks I should be an only dog so I don't need to share any of my toys. I am looking for a new family with grown kids. I sleep in a crate and am fed there too. My foster mom thinks this should continue, I have my own bed and you have yours. I need someone who is going to love me- but NOT baby me. I know it's hard to do because I am small and cute.

Contact Sheltie Rescue
E-mail: nesr@charter.net - Hotline: (860) 546-6775