This page was last updated on 01/11/2019
Please remember to submit an application to be considered. We will email you within 48 hours letting you know that your application has been received. If you don't get a notification, please contact us and we will send you an open application.
Once we have your application on file, if there is a dog on the web site that specifically interests you, let us know via email.
---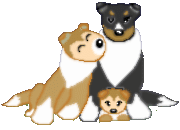 Please check this page soon.
Do submit an application. As dogs become available, we review the applications on file and if we find a potential match that person / family will be given an opportunity to meet a dog before he or she is placed on the available page.
Contact Sheltie Rescue
E-mail: nesr@charter.net - Hotline: (860) 546-6775